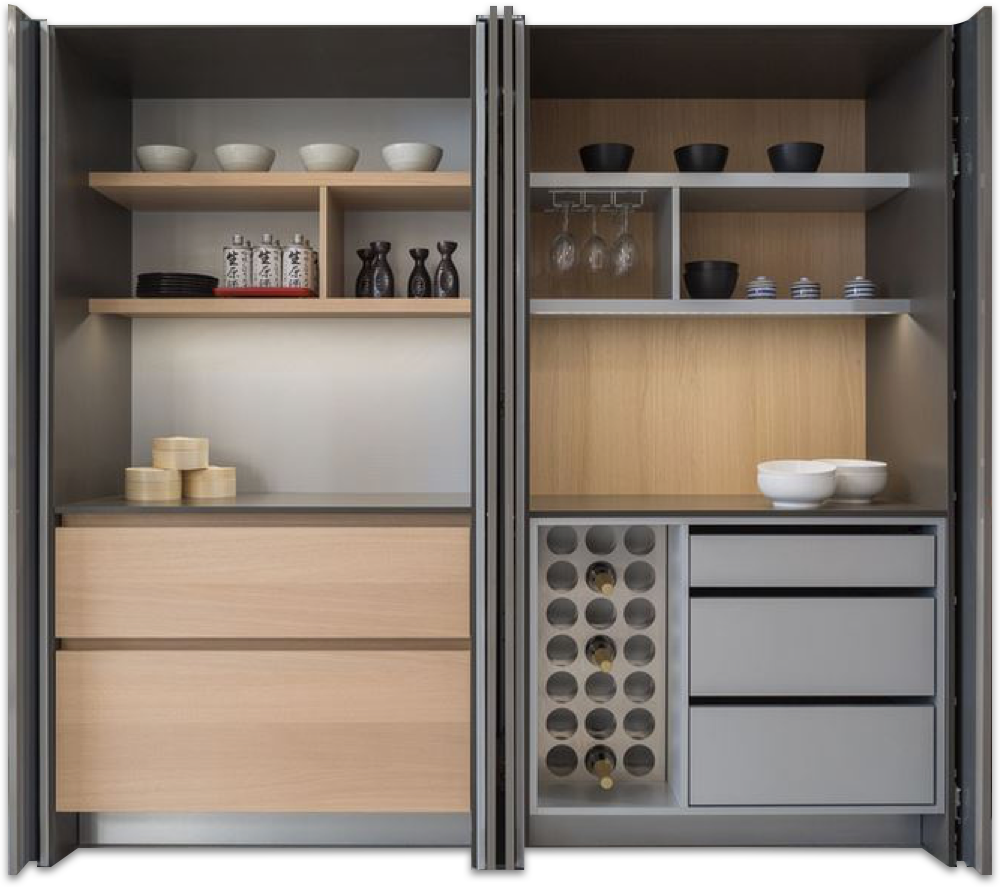 Bento Box
Our Bento Box is a discreet, furniture-like solution for those who like to keep their kitchen fully concealed when not in use. When the self-closing pocketing doors are open, a functional workspace with plenty of storage is hidden behind.
For more details, click here to visit our Space Craft page.
Sleek, Slim, Stylish Storage
Our new drawer system is offered in three different heights, with a choice of a champagne or silver finish. The MetallaBox system is a crisp and elegant drawer option with one of the thinnest side profiles on the market. A Sozo favorite for bath vanities and closets.
Eurocucina 2014
Sozo Studio traveled to Italy for the Eurocucina trade show during Milan Design Week to research the latest in kitchen and bath design. We have since incorporated some of the latest trends and innovations in our design studio.
Finish Trends
Earthy colors
Muted colors
Monochromatic
Matte
Natural wood look and feel
Rustic+ refined
Design Trends
Integrated dining
Integrated living
Open shelving
Concealed kitchen
Backsplash storage
Integrated technology
Motorized drawers
Pull-less cabinets
Hardware & Accessory Trends
Folding pocket doors
Unique drawer finishes
Integrated countertop storage
Piston-free assisted lift hardware
Streamlined assisted lift housing
Thermo-Structured Surfaces
a high-tech alternative to wood

comes in natural-looking colors, patterns, and textures

durable

economical

easy to maintain
Acrylics
Our new collection, available in high gloss and matte, can add a tasteful complement to wood grain, or be used by itself. Colors for 2015 include soft, earthy tones.